We are introducing our new app "Instagram Service Tools" for online stores Shopify. "Instagram service tools" is a unified system for managing your Instagram accounts with full integration into your store. Our app helps you to connect the required number of accounts and create (based on them) galleries to your taste. Moreover, each item in a gallery can be linked to your store's products, available for purchase directly from the gallery card.
How does it work?
Link your Instagram account to the Shopify Online Store
Embed Instagram Feed on your site
Tag your products on the photo. Your customers can see products on your photos and tap products they're interested in on the website.

Key Features
Multiple pricing plans, including Free tariff
Your branding. You can customize the template in the public part of your site according to Shopify logic
Tag your products in Instagram posts
Unlimited galleries are available on the Premium tariff and one on Free tariff
Arrange several Instagram feed components on one page
Automatic Feed updates
Choose the interface of your Instagram feed section
Fully responsive. Posts automatically adjust for the user's screen
Show counts for both likes and comments on each post
Young Team
We are a young and ambitious team. We are flexible and focused on developing our "Instagram Service Tools" app. We will not forget about it. With "Instagram Service Tools", you get an app that doesn't standstill. We collect feedback and look forward to it from you. Our goal is to make the app the best in the Shopify app store and give customers exactly what they need.
Quick Support
If you have any questions about the features or settings of the app, please, contact us. We respond promptly to customer requests and provide quality support for our app.
Data Security
We use an isolated database to protect customer data. It can only be accessed from the cluster that hosts the "Instagram Service Tools" app.
High Availability and Scalability
The "Instagram Service Tools" app runs on a microservice architecture that is administered by Google Cloud Platform (GCP). We also use several services of Amazon Web Services (AWS).
We use the following AWS services:
Elastic Container Registry (ECR) is a fully managed container registry that makes it easy to store, manage, share, and deploy your container images and artifacts anywhere.
Route 53 is a highly available and scalable cloud DNS.
We use GCP to build the infrastructure of the "Instagram Service Tools" app. Google Cloud Platform allows us to provide high availability and scalability of the app for the maximum comfort of our customers.
Google Kubernetes Engine (GKE) provides a highly available, industrial-grade Kubernetes cluster. It requires little configuration and maintenance on the part of the application developer. Within the GKE infrastructure, replicas of individual parts of the application are stored. Load is distributed evenly and automatically between Pod units thanks to Load Balancer. As load increases, the system adds new nodes on its own.
The services and database are managed by Google Cloud Platform, which saves resources on a separate engineer. Thanks to this, Shopify users get the Instagram Service Tools application at an affordable price.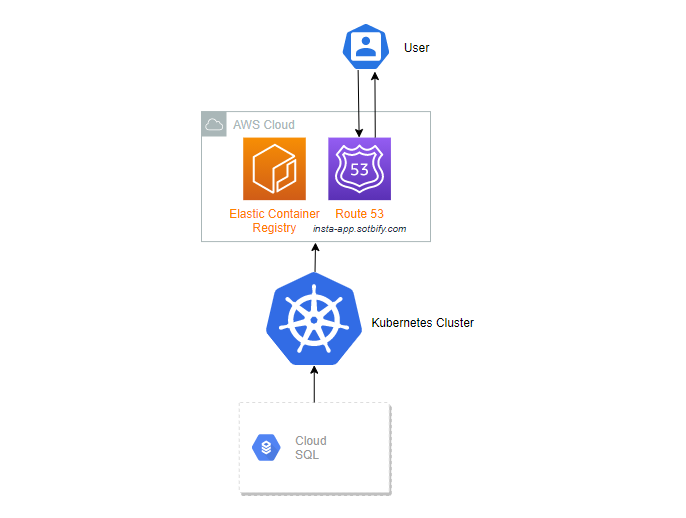 This scheme allows us to ensure constant availability of the application, as well as to prevent critical situations in case of high load.
Multiple Pricing Plans
We provide customers a wide pricing plan for the Instagram Service Tools app, starting with the free pricing plan. Choose the tariff that suits your store best.
Instagram Feed Section Interfaces
There will be six Instagram feed section interfaces.
Simple Card
Slider with a button. There are no limits to the number of cards.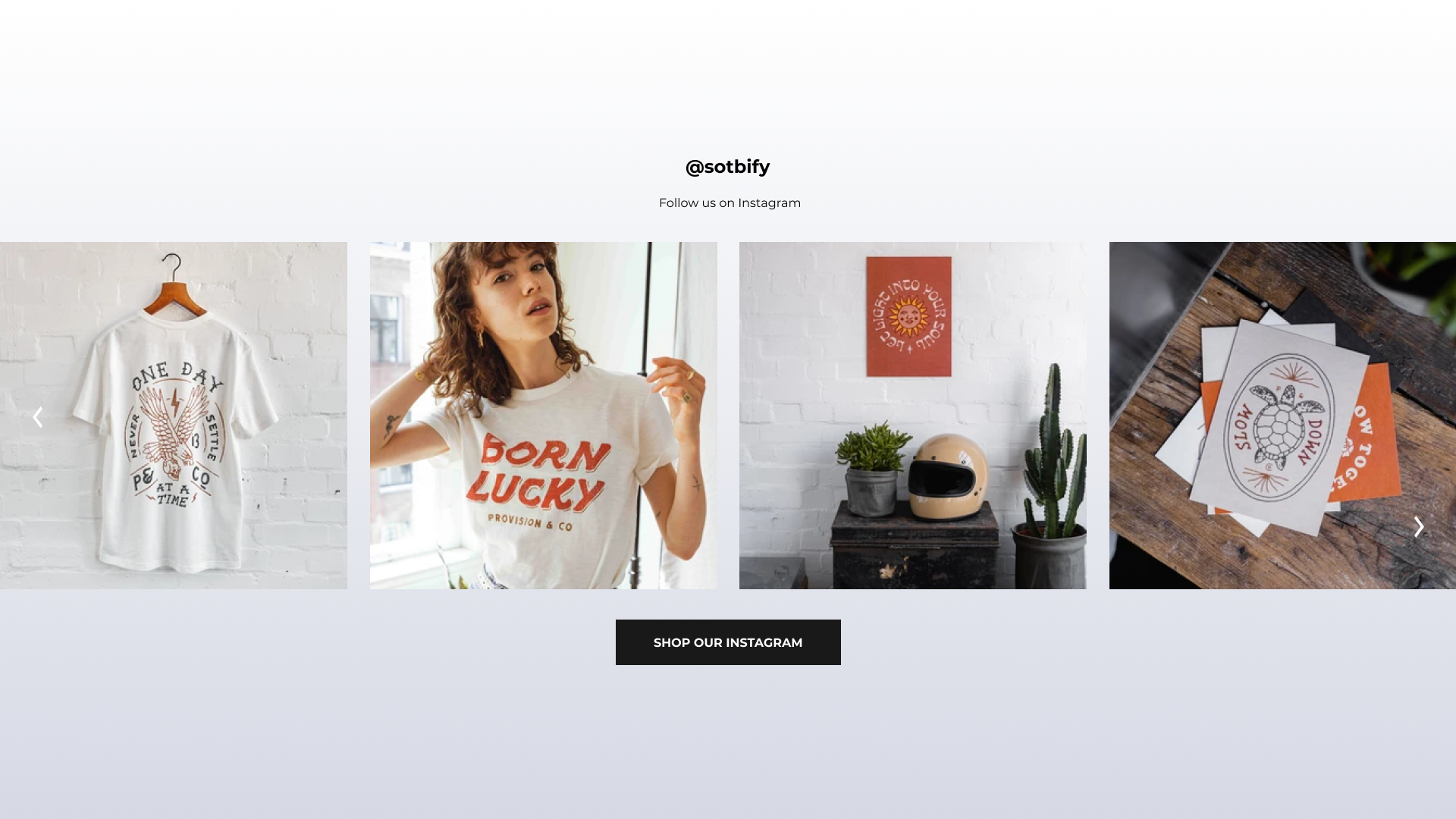 Polaroid Cards
Slider with Polaroid photo cards.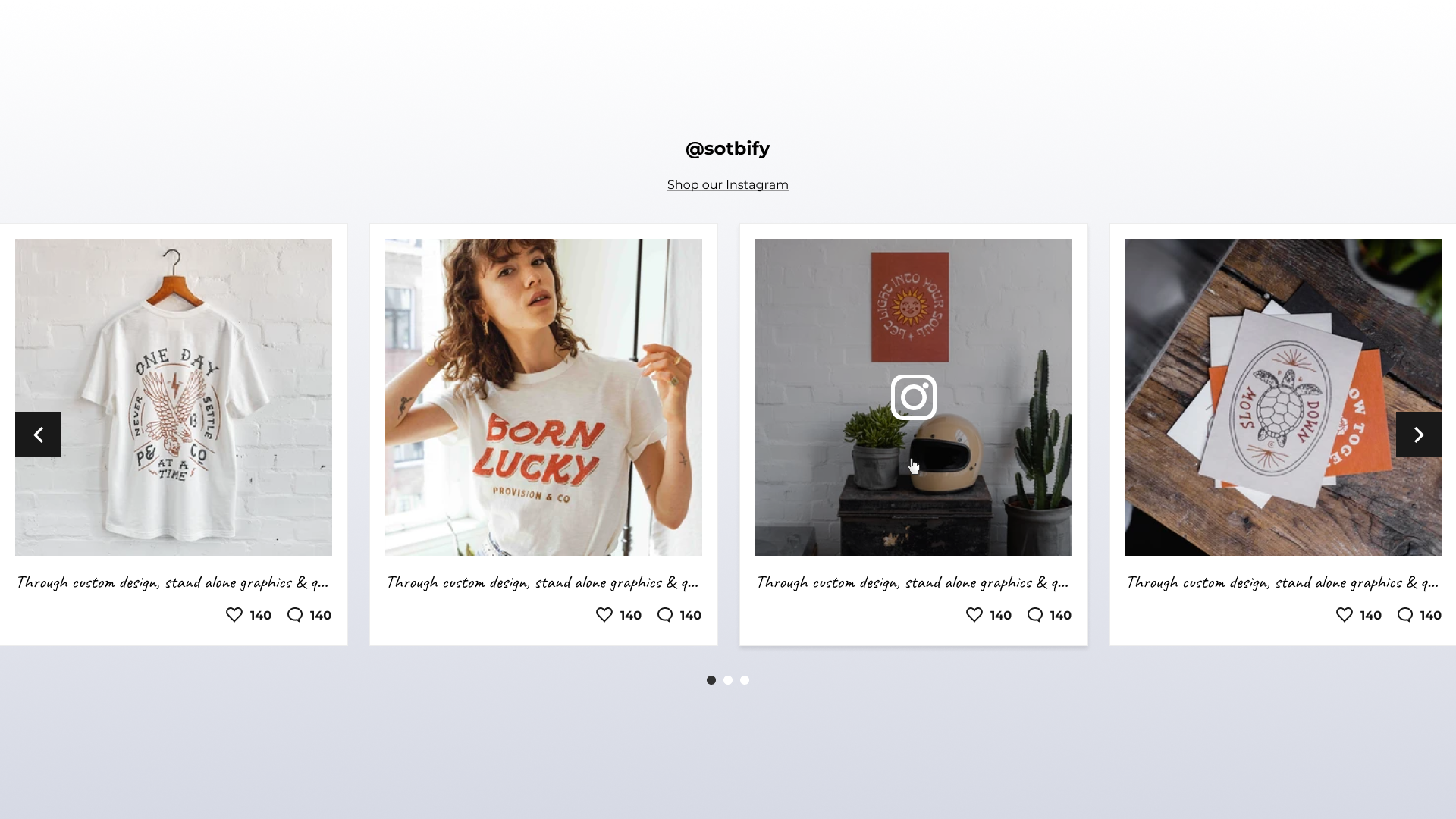 Big Card
1 big post's card and 4 or 8 small posts.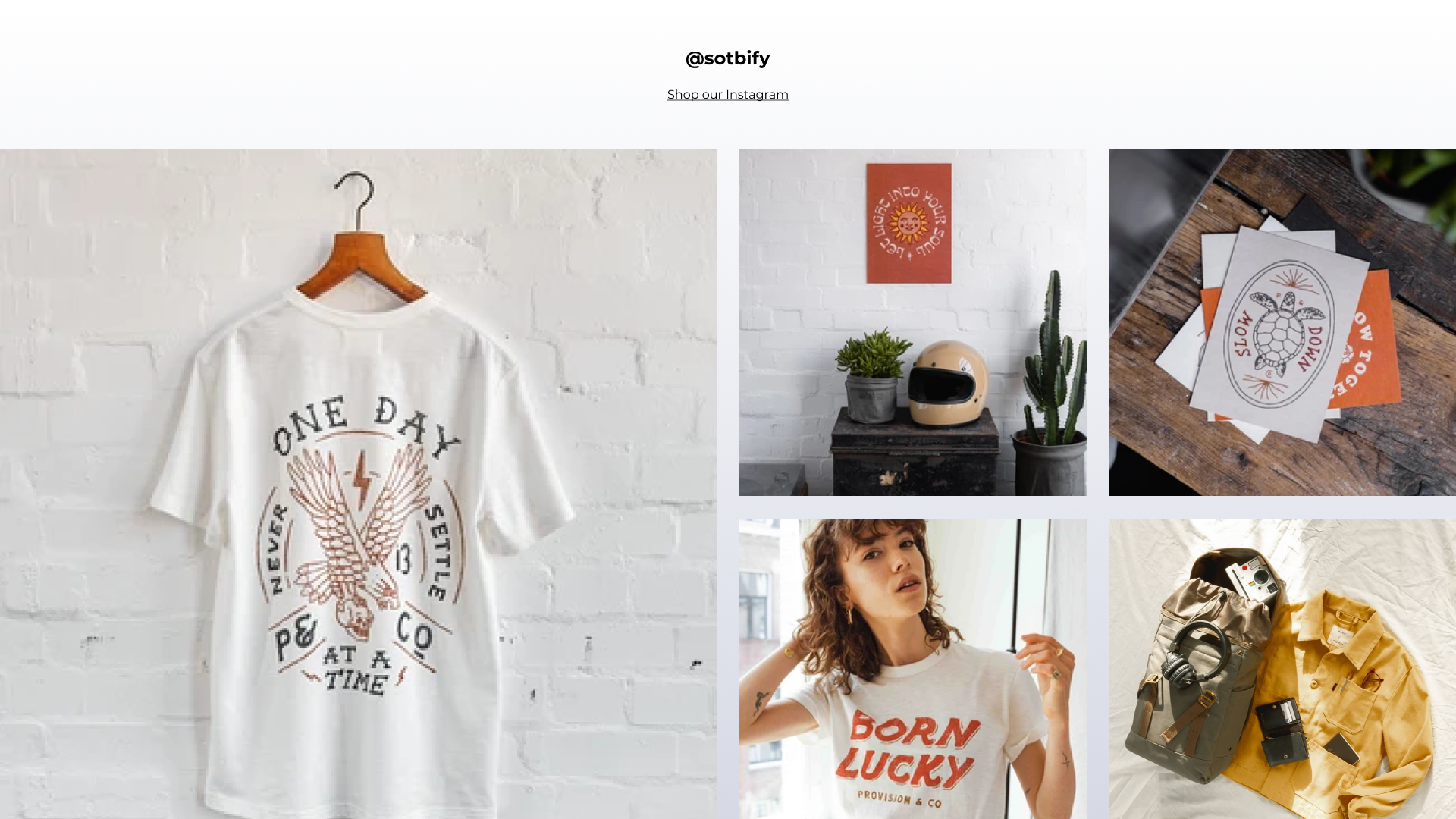 Four Posts with the Store's Info
1 big post's card, 3 small photos and store's info.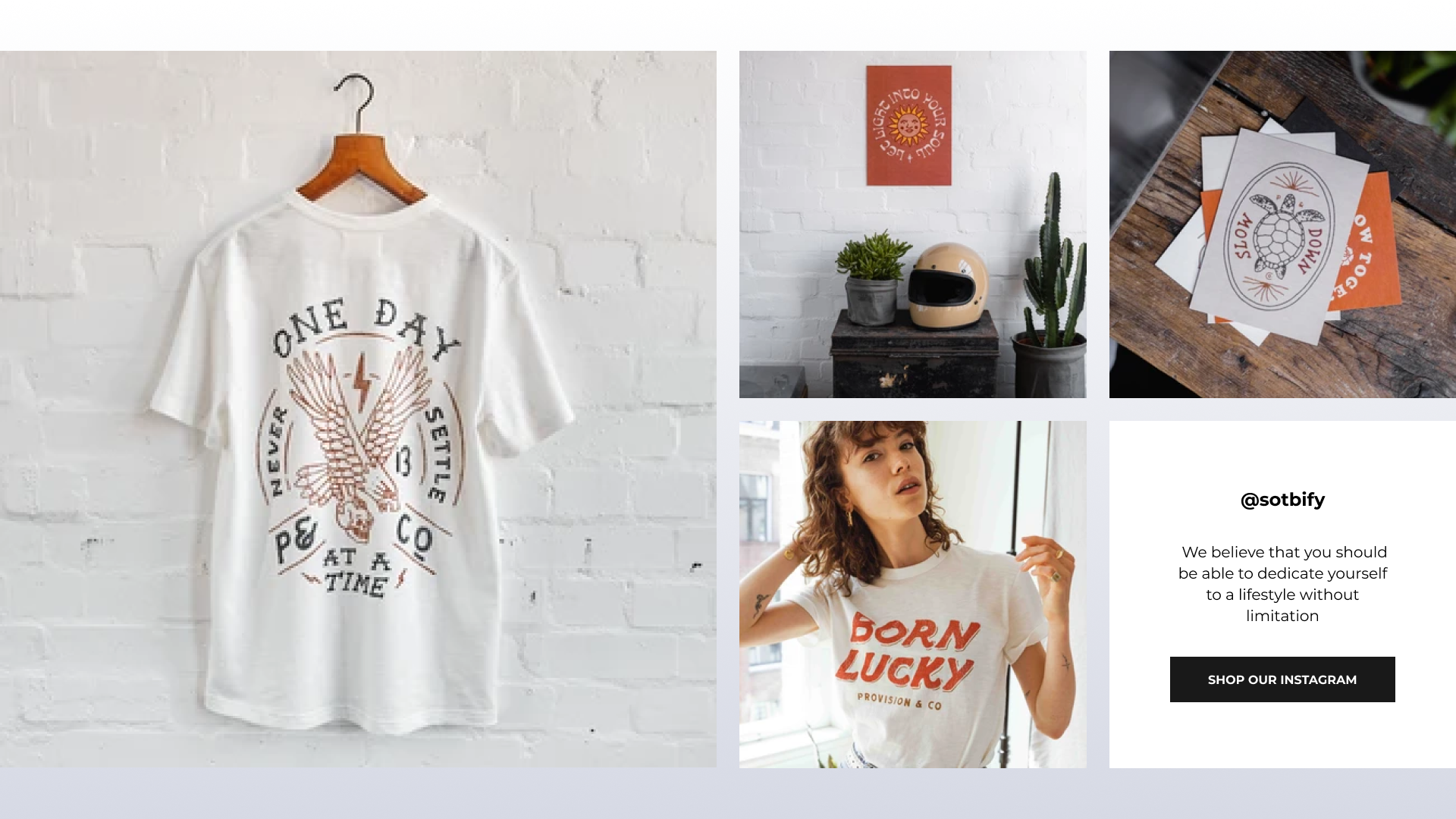 Chaotic Cards
The cards are arranged chaotically.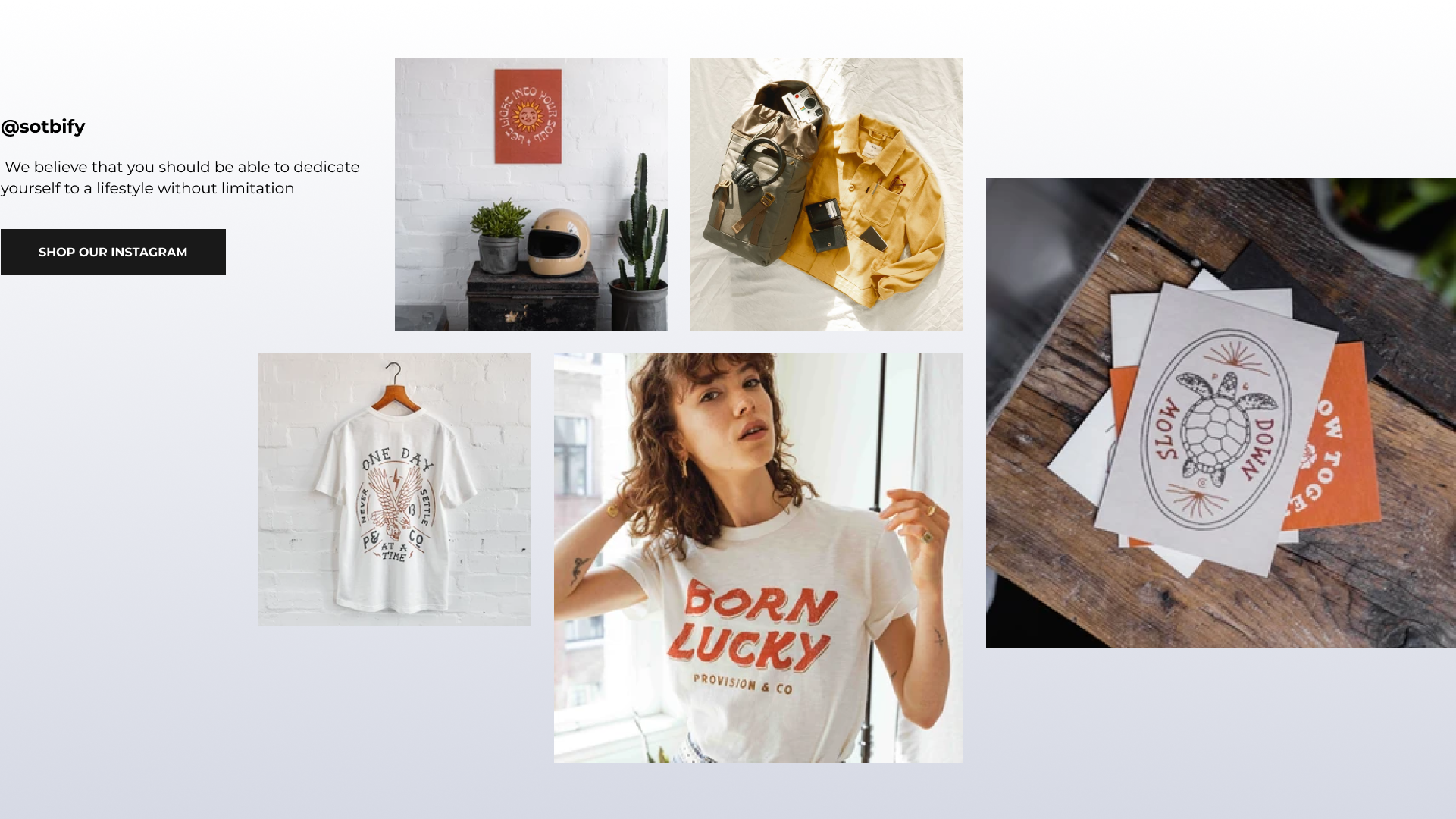 Instagram Post
4 small photos, one big photo with description and hashtags.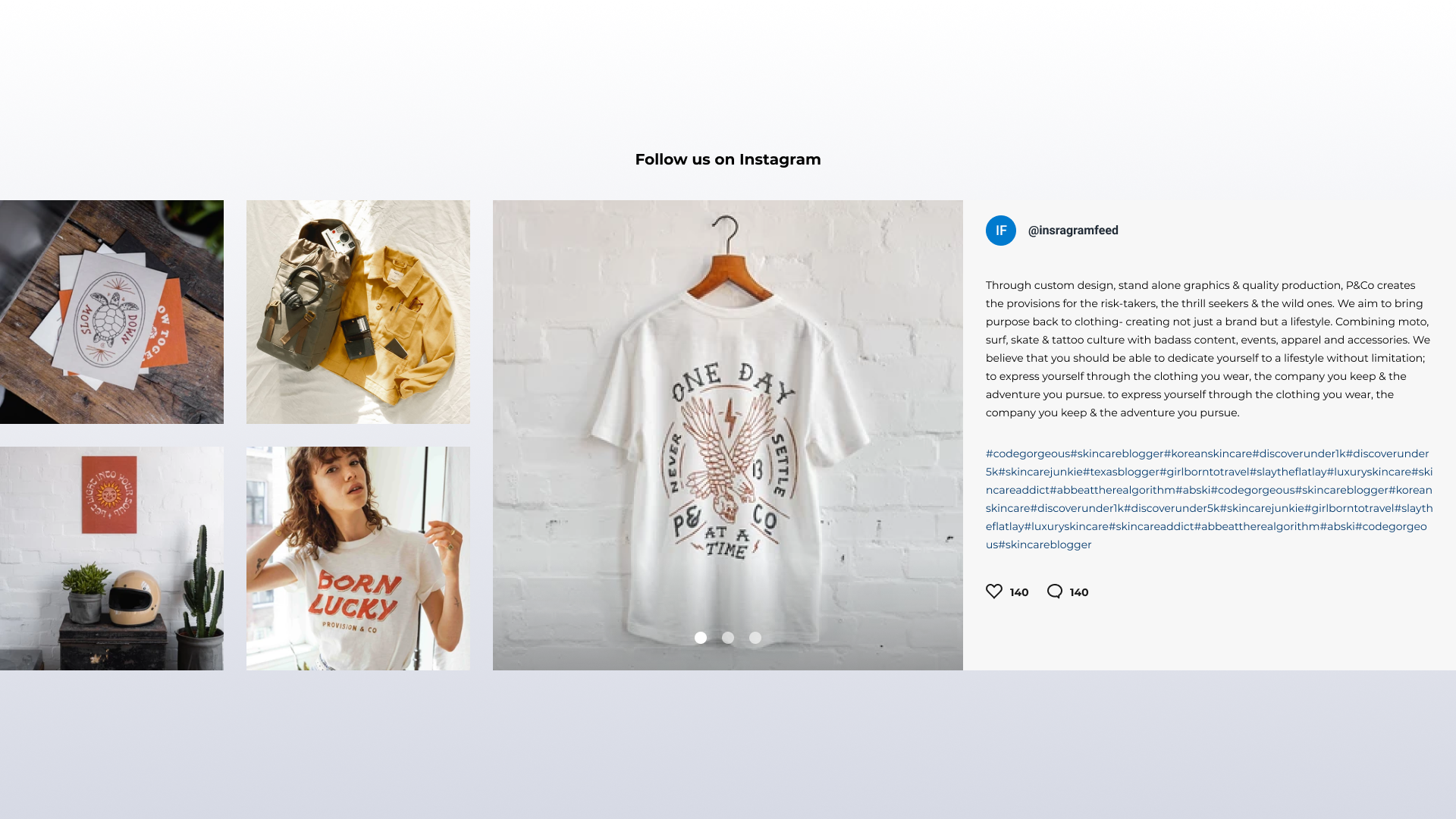 Tariff Plans
The Instagram Service Tools app has 2 plans:
Free Plan
The Instagram Service Tools can be used only in one Online Store. This plan allows connecting one Instagram account. You may use only 8 posts from your Instagram feed in the section. Also, you can't tag products on photos from Instagram. Free plan users have a 1 000 visits limit.
Start Plan
You can connect only one Instagram account as Free plan users. But you may use 20 posts in your Instagram feed section and have no visit limits. Post update time for Start plan users is 4 hours. Also, this plan allows you to tag 1 product on the post from your Instagram feed.
Base Plan (soon)
The users of this plan can use the Instagram Service Tools app in three Online Stores and connect three Instagram accounts. There are no limits to posts and tagged products in the Instagram feed section. Also, the post-update time for Base plan users is 1 hour. Starting with the Base tariff plan users get Gallery manager features. Using this plan you can create 3 custom galleries.
Premium Plan (soon)
This is an advanced plan for app users. There are no limits on the number of Instagram accounts, posts from the Instagram feed, and custom galleries. Also, in the Premium plan, the Instagram posts update instantly.
Choose your Plan
The Instagram Service Tools app allows you to connect your Instagram feed with the Online Store and tag products on the photos. Your customers will choose products from pre-made outfits. So they will place orders quickly.
Choose the tariff plan of the Instagram Service Tool app and increase your online sales!
Try it for free: Shopify App Store